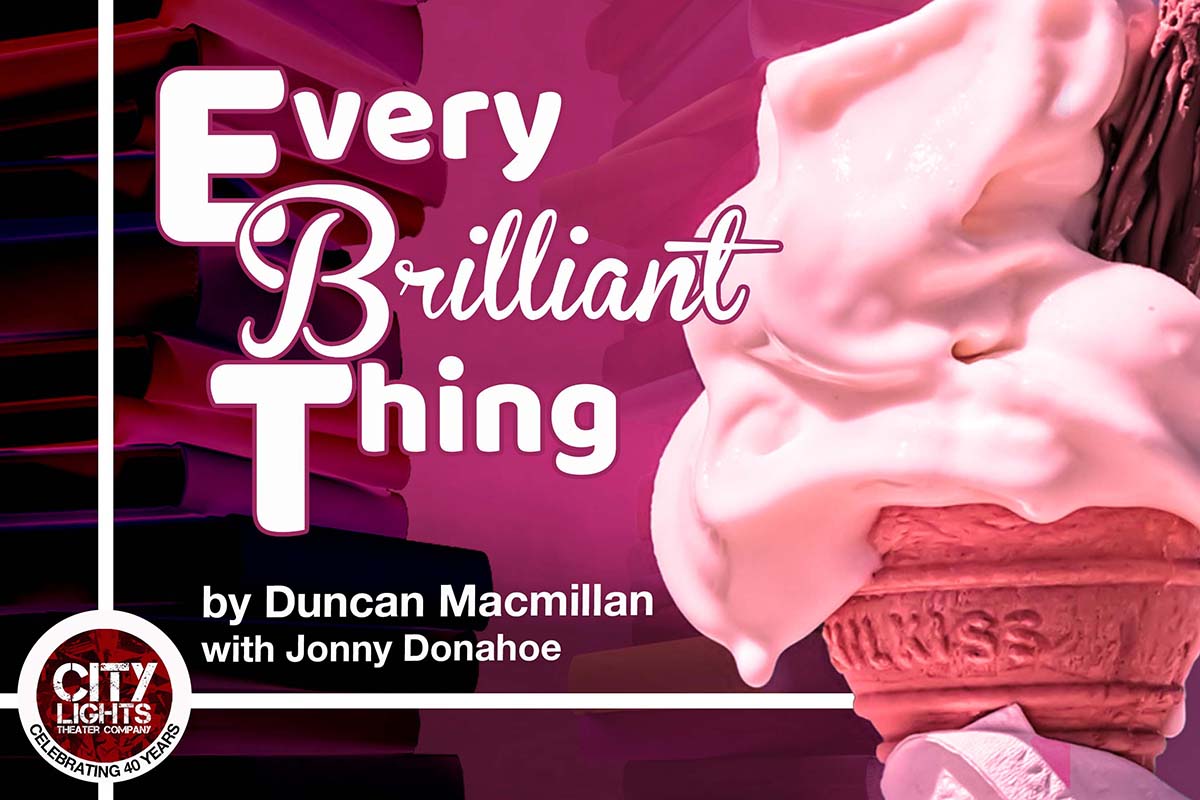 Every Brilliant Thing
Runs

Sep 15

–

Oct 16, 2022
Written by:
Duncan Macmillan, with Jonny Donahoe
Supported by:
Producers Connie & Paul Boulay and Rick Holden & Sandra Moll
Season supported by:
Season Producers Nancy B. Coleman & Paul M. Resch
Seating is general admission, with all seats accessible to those with mobility issues. Masks are required indoors on Oct. 2, 6 and 14. At all other performances, masks are recommended. Just let us know if you'd like to change to another date at no extra charge.
Why you should see Every Brilliant Thing
Because this play wears its heart on its sleeve.
Because it's impossible to resist the charm of actors Dane K. Lentz (Eurydice) and Tasi Alabastro (Vietgone).
Because we've turned this play into a vibrantly bilingual production: Tasi speaks, and Dane speaks and signs in American Sign Language.
Because you're all part of the story. There's lots of warm, fun audience participation (all optional).
Because The Mercury News raves: "The joy in City Lights Theater Company's radiant production is immediate." Watch our video trailer below, and read the full review.
Synopsis
You're seven years old. Mom's in the hospital. Dad says she's "done something stupid." So you start to make a list of everything that's brilliant about the world. Everything that's worth living for. 1. Ice cream. 2. Kung Fu movies. 3. Burning things. 4. Laughing so hard you shoot milk out your nose. 5. Me. You leave it on her pillow. You know she's read it because she's corrected your spelling. Soon, the list will take on a life of its own. A play about sadness that celebrates the world's joys.
Note: The play contains themes of depression and suicide.
Photos and Other Resources
Cast
Tasi Alabastro
Dane K. Lentz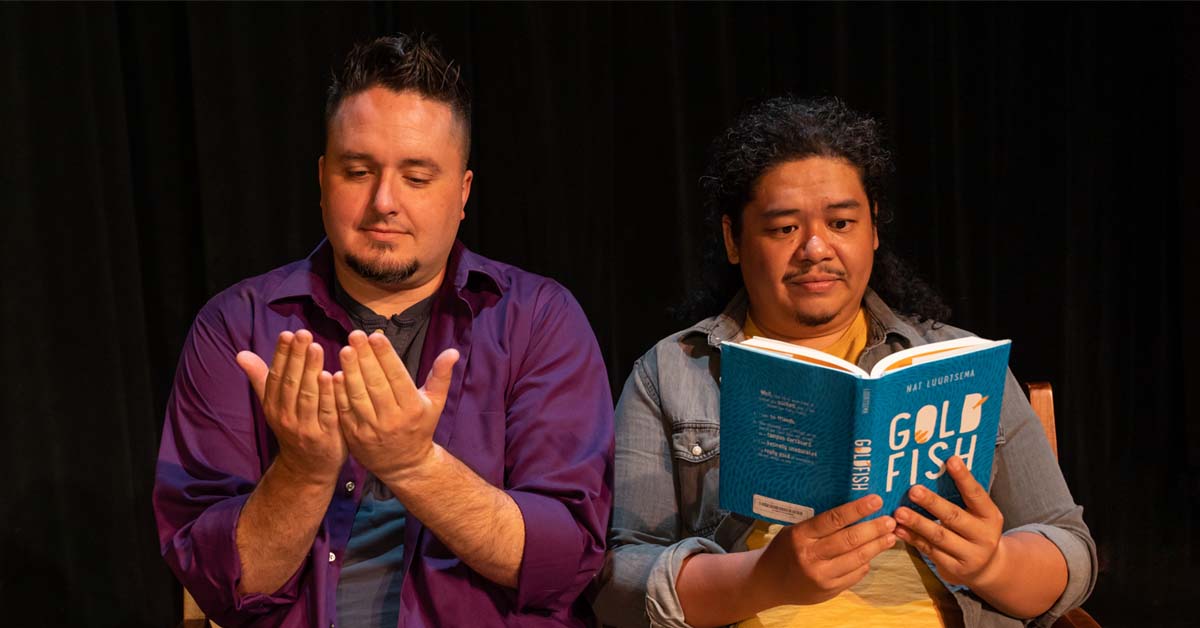 Details and special events
Every Brilliant Thing previews Sept. 15 and 16, and runs through Oct. 16. (No show on September 18.) Showtimes are Thurs.-Sat., 8 p.m., Sundays at 2 p.m. Discounts are available for students, seniors (65+), educators, and groups, and for military personnel. (There is a $2 surcharge for phone and in-person buys.)
This production includes themes of depression and suicide. Resources will be available at the theater, but if you or someone you know is in crisis, please contact the national Suicide & Crisis Lifeline at 9-8-8.
Please note that for this production only, seating is general admission (and a very cool part of the show). We recommend arriving at least 20 minutes before curtain to have time to choose your seat — and to truly experience all of the production.
Bring a group of 10 or more and get 25% off the face value of each ticket! The discount is automatically applied when 10 or more tickets are in the cart. (Contact the box office if group members are paying separately.)
Special events:
Thursday, Sept. 15, 8 p.m.: Pay What You Can Preview Night. (Call the box office at 408-295-4200 to name your own price.)
Friday, Sept. 16, 8 p.m.: Preview Night.
Saturday, Sept. 17, 8 p.m.: Opening Night.
Thursday, Oct. 6, 8 p.m.: Before the show, folks from our nonprofit partner the American Foundation for Suicide Prevention will give a brief curtain speech about their fine work. Today's performance is dedicated to them.
Sunday, Oct. 9: Talkback with the director and cast following the 2 p.m. matinee.
Wednesday, Oct. 12, 7 p.m.: Join director Lisa Mallette and actors Dane & Tasi for a free Zoom talkback! To sign up, "buy" a free ticket online. We'll send you the Zoom link in your confirmation email.
Masks are required indoors at the performances on Oct. 2, 6 and 14. At all others, masks are only recommended. Just let us know if you'd like to change your ticket to another date at no extra charge.
If you are feeling unwell or have any concerning symptoms, please stay home, and don't worry about your tickets. We'll be happy to exchange them for another performance, free of charge. City Lights is a fully vaccinated company. Learn more about our Covid-19 protocols.
Parking and other info:
View a parking map of downtown San Jose to see your options for street or lot parking. We are unfortunately unable to offer any designated patron parking for the theater.
Every Brilliant Thing runs about 90 minutes, with no intermission. We would rate this production PG-13 for themes of suicide and depression.
The theater is wheelchair-accessible; book the ADA & Companion seats when buying tickets. If you need ADA parking in front of our glass doors, note that on your order during check-out, or email or call the box office (408-295-4200).
Due to the intimate size of our theater, we unfortunately are not able to seat late patrons. Thank you for your understanding.
View the full gallery of Every Brilliant Thing photos by Christian Pizzirani.