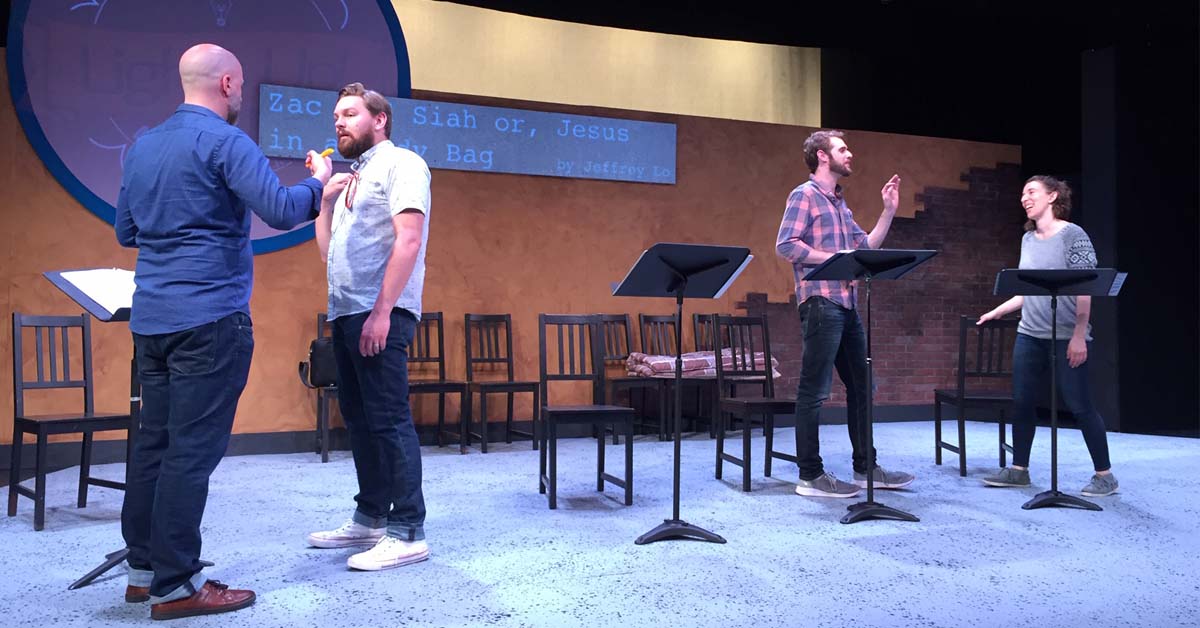 Lights Up, City Lights' annual festival of new plays, brings you everything from quirky comedy to unpredictable romance to dark drama. Our up-and-coming playwrights have lots of stories to tell you.
This podcast series emphasizes the most important part of a new play: the words. Each year we ask playwrights to submit fresh, new scripts to be read out loud.
The 2022 festival
This year's lineup features a variety of concepts and genres, all revolving around the theme of ESCAPE. Think dark comedies and romantic comedies, dystopian futures and a sci-fi family drama, a runaway bride, and more.
Lights Up! 2022 is now on our podcast channel Filament in two episodes. Listen on our website, or wherever you get your podcasts. We'll also be featuring Lights Up! artists on Zoom at 7 p.m. Sept. 7. Learn more and sign up for this free streaming event.
Here's the full festival lineup:
Episode 1, directed by Sarah Younan:
Jenny's in Hell by Courtney Bailey
Pippy by Russell Weeks
Play House by Sage
Easy does It by Jake Alexander
Love, From Space by Maxwell Plata
Chem Class by Jennifer O'Grady
Featuring the voice talents of: Carol Amalia, Grace Beaudet, Catie Sheley, Mary Lou Torre and Hayden Verbanas.
Episode 2, directed by Melinda Marks
Amelia, Still by Allie Costa
It's time to come out now by Guy Newsham
Viewer Discretion Advised by Alethea Shirilan-Howlett
White Dress by Laura Shamas
Monsters Beyond the Midnight Zone by Lindsay Partain
Twenty-four Tattoos by Peter J. Stavros
Featuring the voice talents of: Arcadia Conrad, Allie Costa, Asha Kelly, Nita Duarte Lambert, Skyler Riordan and Kyle Smith.
Past festivals
Lights Up! was originally an in-person festival that also featured local visual artists showing and selling their work at the theater. During the pandemic shutdown in 2020, we moved the festival to a podcast series — and then discovered the all-audio format actually brought the new scripts front and center by focusing on the playwrights' words.
An extra salute to everyone who was involved in the festival's pioneering first years as a podcast series! Head to the 2021 and 2020 profiles pages to learn more about the festival playwrights, directors, and actors who were involved.