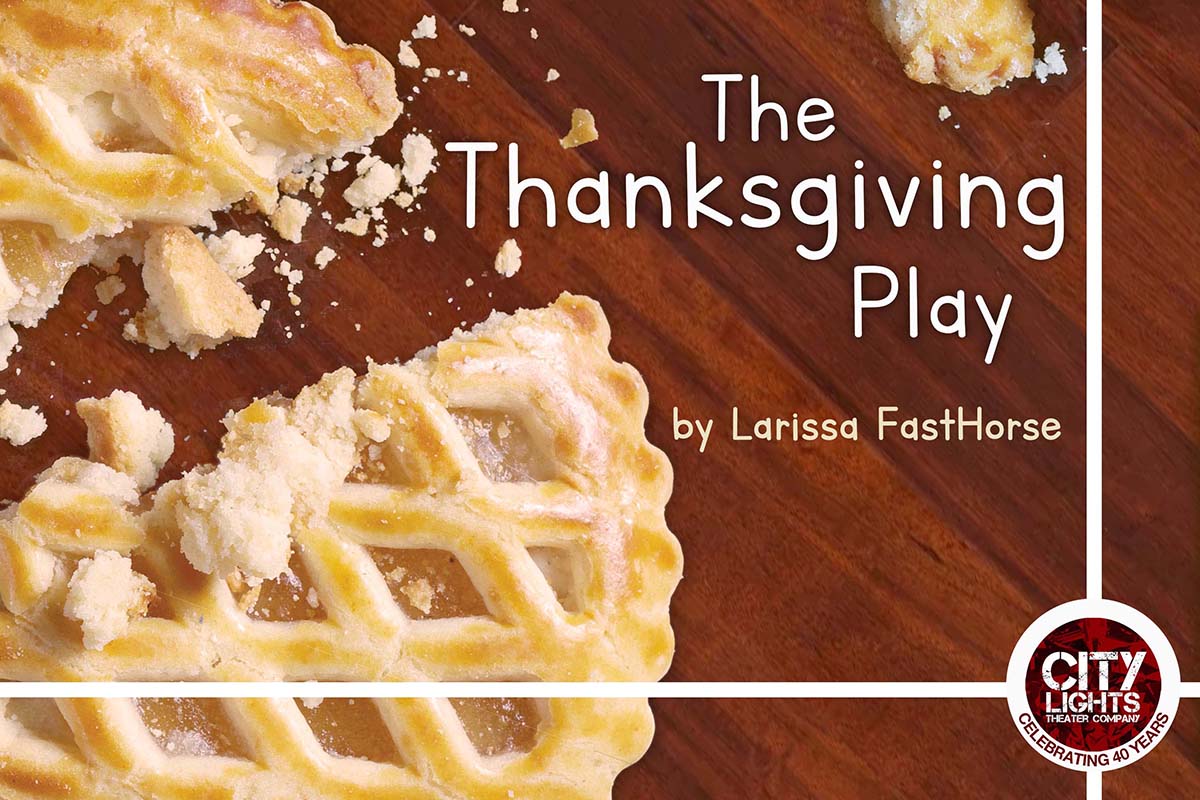 The Thanksgiving Play
Runs

Nov 17

–

Dec 18, 2022
Written by:
Larissa FastHorse
Supported by:
Producers Jonathan Karpf and Kathleen Zaretsky
Season supported by:
Season Producers Nancy B. Coleman & Paul M. Resch
Buy a season pass now to get first choice of seats all season!
Why you should see The Thanksgiving Play
Because it's a smart, tasty meal of a play that skewers assumptions and makes you crack up at the same time.
Because you can watch only so many parades on Thanksgiving weekend.
Because during the stress of the holiday season, we could all use some good belly laughs.
Synopsis
They're totally woke and perpetually P.C. So how can this motley group of teaching artists create a Thanksgiving pageant that won't offend anyone? A director who's already in trouble with the school parents tries to get her troupe to honor both Turkey Day and Native American Heritage Month, while being culturally sensitive (and also mindful of vegan allies). The result: a delicious satire. As the New York Times wrote in a review, "Just because a target's too easy doesn't mean it won't make a satisfying meal."
Details and special events
The Thanksgiving Play previews Nov. 17 and 18, and runs through Dec. 18. (No shows on Nov. 20 and 24.) Showtimes are Thurs.-Sat., 8 p.m., Sundays at 2 p.m. Discounts are available for students, seniors (65+), educators, and groups, and for military personnel. (There is a $2 surcharge for phone and in-person buys.)
Bring a group of 10 or more and get 25% off the face value of each ticket! The discount is automatically applied when 10 or more tickets are in the cart. (Contact the box office if group members are paying separately.)
If you are feeling unwell or have any worrisome symptoms, please stay home, and don't worry about your tickets. We'll be happy to exchange them for another performance, free of charge. City Lights is a fully vaccinated company, and everyone who works here is regularly tested for Covid-19. Learn more about our Covid-19 protocols.
Special events:
Thursday, Nov. 17, 8 p.m.: Pay What You Can Preview Night. (Call the box office at 408-295-4200 to name your own price.)
Friday, Nov. 18, 8 p.m.: Preview Night.
Saturday, Nov. 19, 8 p.m.: Opening Night.
Parking and other info:
View a parking map of downtown San Jose to see your options for street or lot parking. We are unfortunately unable to offer any designated patron parking for the theater.
The theater is wheelchair-accessible; book the ADA & Companion seats when buying tickets. If you need ADA parking in front of our glass doors, note that on your order during check-out, or email or call the box office (408-295-4200).
Due to the intimate size of our theater, we unfortunately are not able to seat late patrons. Thank you for your understanding.