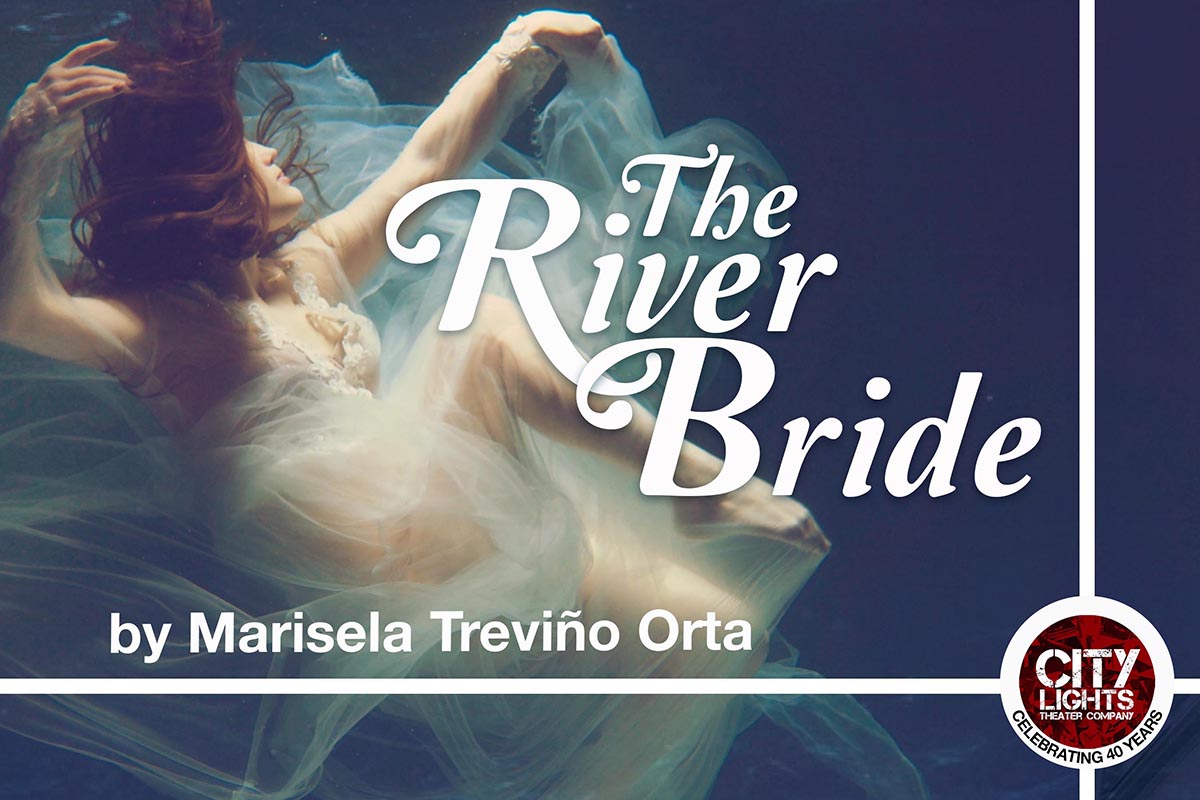 The River Bride
Runs

May 18

–

Jun 11, 2023
Written by:
Marisela Treviño Orta
Directed by:
John R. Lewis
Supported by:
Producers who wish to remain anonymous
Season supported by:
Season Producers Nancy B. Coleman & Paul M. Resch
Why you should see The River Bride
Because this Brazilian fable will transport you to a world so close, but so far.
Because the Houston Press called it "an incredibly original and affecting night at the theater."
Because the relationship between Helena and Belmira is perfectly relatable to anyone with a sister.
Because every few years we have to put water on stage somehow.
Synopsis
Once upon a time, in a fishing village along the Amazon, there lived two sisters struggling to find their "happily ever after." Helena is dreading her sister Belmira's wedding. The groom should have been hers, and she knows her sister wants only to escape to an exciting new life in the city. But three days before the wedding, fishermen pull a mysterious stranger out of the river – a man with no past who offers both sisters an alluring, possibly dangerous future. Brazilian folklore and lyric storytelling blend into a heartrending tale of true love, regret and transformation.
Details and special events
The River Bride previews May 18 and 19, and runs through Jun. 11. (No shows on May 21) Showtimes are Thurs.-Sat., 8 p.m., Sundays at 2 p.m. Discounts are available for students, seniors (65+), educators, and groups, and for military personnel. (There is a $2 surcharge for phone and in-person buys.)
Bring a group of 10 or more and get 25% off the face value of each ticket! The discount is automatically applied when 10 or more tickets are in the cart. (Contact the box office if group members are paying separately.)
Covid protocols:
If you are feeling unwell, please stay home, and don't worry about your tickets. We'll be happy to exchange them for another performance, free of charge. Masks are recommended indoors, except for the "mask-required" performances on May 19, and June 3 and 8. We recommend but do not require the Covid vaccine. City Lights is a fully vaccinated company.  Learn more about our Covid-19 protocols.
Special events:
Thursday, May 18, 8 p.m.: Pay What You Can Preview Night. (Call the box office at 408-295-4200 to name your own price.)
Friday, May 19, 8 p.m.: Preview Night. This is also a mask-required performance.
Saturday, May  20, 8 p.m.: Opening Night.
Sunday, May 28, 2 p.m.: Before the show, folks from our nonprofit partner, The Leigh Weimers Emerging Artists Awards, a program of the Rotary Club of San Jose, will give a brief curtain speech about their fine work. Today's performance is dedicated to them!
Saturday, June 3: Mask-required performance.
Thursday, June 8: Mask-required performance.
Parking and other info:
We are unfortunately unable to offer any designated patron parking for the theater. View a parking map of downtown San Jose to see your options for street or lot spaces. The closest city lot is the First Street and I-280 Lot, under the freeway.
The theater is wheelchair-accessible; book the ADA & Companion seats when buying tickets. If you need ADA parking in front of our glass doors, note that on your order during check-out, or email or call the box office (408-295-4200).
Due to the intimate size of our theater, we unfortunately are not able to seat late patrons. Thank you for your understanding.