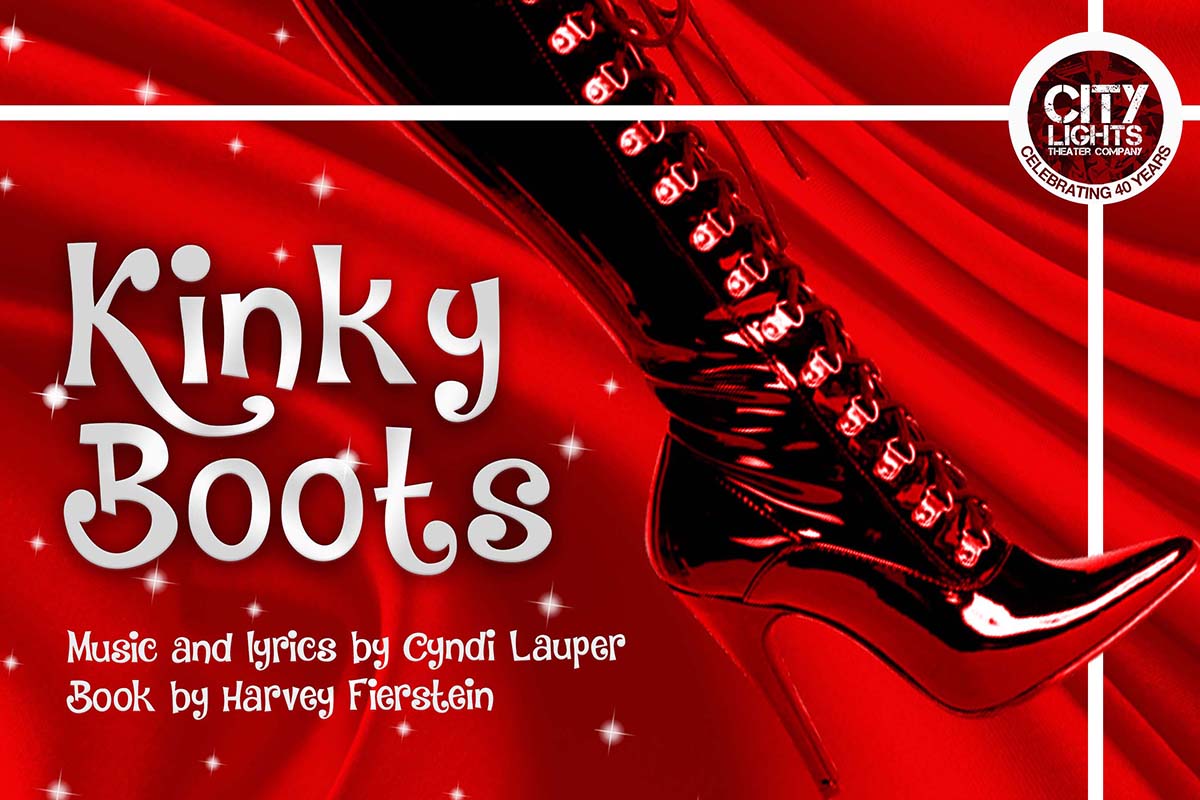 Kinky Boots
Runs

Jul 13

–

Aug 27, 2023
Music & lyrics by:
Cyndi Lauper
Original production directed & choreographed by:
Jerry Mitchell
Based on the Miramax motion picture by:
Geoff Deane & Tim Firth
Directed by:
Lisa Mallette and Mark Anderson Phillips
Vocal direction by:
Samuel Cisneros
Choreography by:
Lysander Abadia
Supported by:
Producer Charlie McCollum, Producers Richard & Peggy James, and Producers Christy Martin & Cindy Melter
Season supported by:
Season Producers Nancy B. Coleman & Paul M. Resch
After canceling performances last weekend due to (thankfully mild) Covid cases in the cast, we hope and intend to perform again from Aug. 25-27. If that changes, we'll be notifying all ticket-holders directly. Thank you all for your love and support!
Why you should see Kinky Boots
Because it's no secret that Cyndi Lauper's music can get a party started.
Because red high-heeled boots. Lots of them.
Because this exuberant musical is a warming story of love and acceptance, and a celebration of the art of drag!
Because we can all, as the song puts it, "Just Be."
Because we've extended the show through Aug. 27!
Synopsis
Charlie Price has reluctantly inherited his father's shoe factory, which is on the verge of bankruptcy. Trying to live up to his father's legacy and save his family business, Charlie finds inspiration in the form of Lola, a fabulous entertainer in need of some sturdy stilettos. As they work to turn the factory around, this unlikely pair find that they have more in common than they realized…and discover that when you change your mind, you can change your whole world.
Resources
High-res show photos
Press release
Show program
Highlights dramaturgy guide
Cast
Charlie Price: Matt Locke
Young Charlie: Matteo Cecchi / Callum Soares-McCargo
Lola/Simon: Barton "Bart" Perry
Young Lola/Simon: David Edward Sodomin
Nicola: Amber Smith
Lauren: Lauren Berling
Don/Hooligan 1: Quinn Dembecki
Pat: Karen DeHart
Trish: Molly Thornton-Olivas
George: Dane Lentz
Angels: Anthony Castillon, Ricardo Cortés, David Kautz and Andrew Mo
Mr. Price/Ensemble: Doug Brook / Ken Boswell
Harry/Ensemble: AJ Jaffari
Richard Bailey/Band Member/Ensemble: Ethan Glasman
Hooligan 2/Ensemble: Arturo Montes
Female Worker/Ensemble: Rachelle Schaum
Milan Stage Manager/Ensemble: Naomi Evans
Bartender, Referee/Ensemble: Jennifer Noel Medeiros
Details and special events
Kinky Boots previews July 13 and 14, and runs through Aug. 27. (No shows on July 16.) Showtimes are Thurs.-Sat., 8 p.m., Sundays at 2 p.m., with three Wednesdays at 8. We recently added 8 p.m. performances on Aug. 25 & 26, and a 2 p.m. matinee on Aug. 27, thanks to great ticket sales! Tickets are $24-$65, with discounts available for students, seniors (65+), educators, and groups, and for military. There is a $2 surcharge for phone and in-person buys.
Run time is about two hours, plus one 15-minute intermission. We would rate the show PG-13 for some adult content.
Bring a group of 10 or more and get 25% off the face value of each ticket! The discount is automatically applied when 10 or more tickets are in the cart. (Contact the box office if group members are paying separately.)
Special events:
Thursday, July 13, 8 p.m.: Pay What You Can Preview Night. (Call 408-295-4200 to name your own price.)
Friday, July 14, 8 p.m.: Preview Night.
Saturday, July 15, 8 p.m.: Opening Night.
Saturday, July 22, 8 p.m.: See the show on this night, and 10% of your ticket will support Theatre Bay Area's Lemonade Fund!
Thursday, July 27: Mask-required performance.
Friday, July 28: Before the show, folks from our nonprofit partner, Silicon Valley Pride, will give a brief curtain speech about their fine work. Today's performance is dedicated to them!
Saturday, Aug. 5: Mask-required performance.
Sunday, Aug. 13: We will have American Sign Language interpreters at this performance.
Monday, Aug. 14: Join us online for a free Zoom talkback with the director and cast on The Next Stage.
Sunday, Aug. 20: Stay after the 2 p.m. performance for a talkback with director Lisa Mallette and the cast.
Covid protocols:
If you are feeling unwell, please stay home, and don't worry about your tickets. We'll be happy to exchange them for another performance, free of charge. Masks are recommended indoors, except for mask-required performances on July 27, and Aug. 5. We recommend but do not require the Covid vaccine. City Lights is a fully vaccinated company.  Learn more about our Covid-19 protocols.
Parking and other info:
We are unfortunately unable to offer any designated patron parking for the theater. View a parking map of downtown San Jose to see your options for street or lot spaces. The closest city lot is the First Street and I-280 Lot, under the freeway.
The theater is wheelchair-accessible; book the ADA & Companion seats when buying tickets. If you need ADA parking in front of our glass doors, note that on your order during check-out, or email or call the box office (408-295-4200).
Due to the intimate size of our theater, we unfortunately are not able to seat late patrons. Thank you for your understanding.
Enjoy the full gallery of show photos by company photographer Christian Pizzirani.