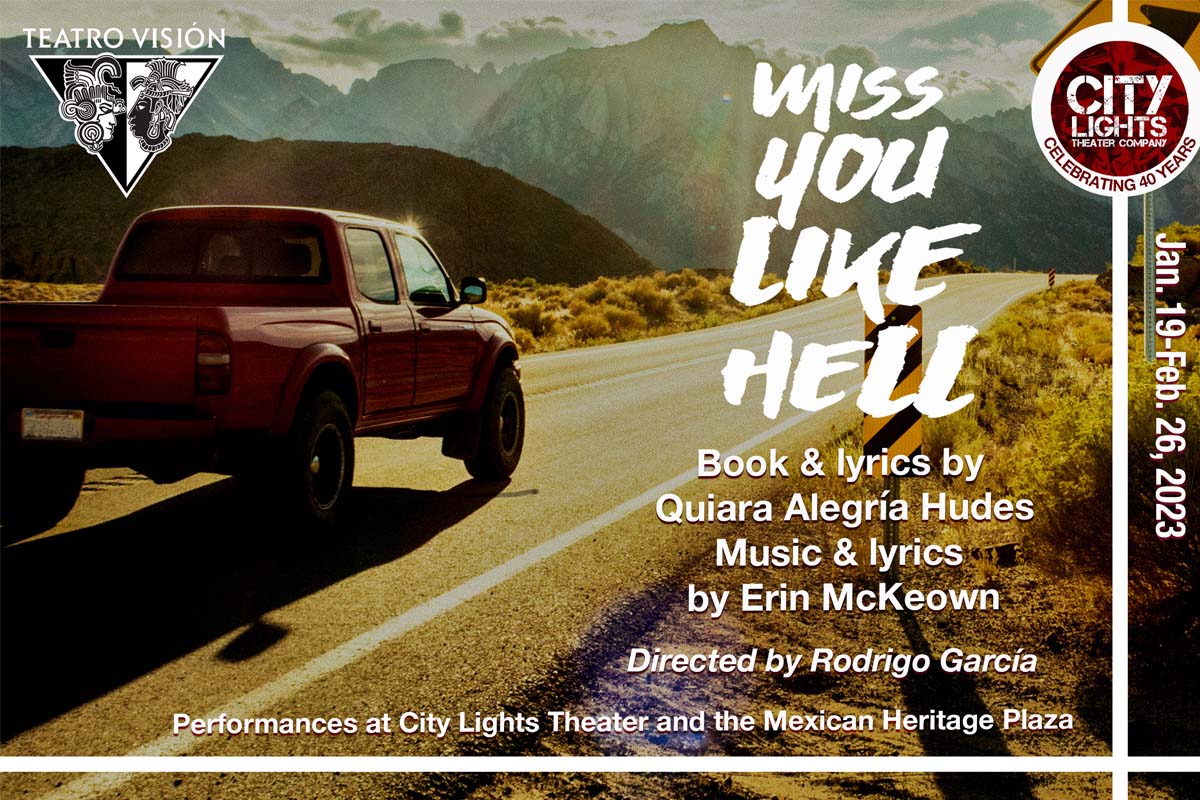 Miss You Like Hell
Runs

Jan 26

–

Feb 26, 2023
Book & lyrics by:
Quiara Alegría Hudes
Music & lyrics by:
Erin McKeown
Directed and choreographed by:
Rodrigo García
Music direction by:
Samuel Cisneros
Co-produced with:
Teatro Visión
Supported by:
Executive Producer Charlie McCollum and Producers Jonathan Karpf & Kathie Zaretsky, as well as by Applied Materials Community Fund and SVCreates, in partnership with the County of Santa Clara.
Season supported by:
Season Producers Nancy B. Coleman & Paul M. Resch
Note: The first weekends of this show are at City Lights, with closing weekend at the Mexican Heritage Plaza. Scroll down for details about ticketing and Covid policies at both venues.
Why you should see this show
Because we fell in love with Quiara Alegría Hudes' writing with In the Heights.
Because it'll inspire you to go on a road trip with your mom.
Because a New York Times critic called it "a powerful example of what musicals do best: explore the unprotected border where individual needs and social issues intermix."
Synopsis
When Beatriz shows up at her 16-year-old daughter Olivia's house at 4 a.m. and invites her on an epic road trip, they haven't seen each other in four years. But Beatriz is an undocumented immigrant about to be deported to Mexico, and time is running out. From Philadelphia to California, from estranged to reunited, Beatriz and Olivia take a transformative journey, meeting a diverse array of Americans with their own stories to tell. An important and intimate new musical rich with family, humor and heart.
Resources
Cast
Beatriz: Jessica Osegueda
Olivia: Alycia Adame
Higgins: Ken Boswell
Mo: Joel Butler
Manuel: Ricardo Cortés
Pearl: Kennedy Dawson and Naomi Evans (Depending on date)
Ensemble: Lazarita Sapien, Ugho Badú and Francisco Medina
Details and special events
Miss You Like Hell previews Jan. 26 and 27, opens Jan. 28, and runs through Feb. 26, with titles in English and Spanish. All performances on closing weekend, Feb. 23-26, will be at the Mexican Heritage Plaza.
Prices for performances at City Lights: Tickets are $26-$54, with discounts available for students, seniors (65+), educators, groups, and military personnel. (There is a $2 surcharge for phone and in-person buys.)
Prices for performances at the Mexican Heritage Plaza: Read about Teatro Visión's ticket-pricing policy.
Covid protocols:
If you are feeling unwell, please stay home, and don't worry about your tickets. We'll be happy to exchange them for another performance, free of charge. At City Lights, masks are recommended indoors, except for the "mask-required" performances on Feb. 4, 9 and 12. City Lights recommends but does not require the Covid vaccine. Read more about City Lights' Covid-19 protocols.
At the Mexican Heritage Plaza, proof of Covid-19 vaccination is not required; however, wearing a mask indoors is required at all times. Read more about Teatro Visión's Covid-19 policy. 
Special events:
Thursday, Jan. 26, 8 p.m.: Pay What You Can Preview Night. (Call the box office at 408-295-4200 to name your own price.)
Friday, Jan. 27, 8 p.m.: Preview Night
Saturday, Jan. 28, 8 p.m.: Opening Night.
Sunday, Feb. 5: A talkback with the director and cast follows the 2 p.m. matinee at City Lights.
Saturday, Feb. 11: Before the show, folks from our nonprofit partner Amigos de Guadalupe will give a brief curtain speech about their fine work. Today's performance is dedicated to them.
Monday, Feb. 13, 7 p.m.: "The Making of Miss You Like Hell," a Zoom interview with the director and cast members of the show, as well as representatives from City Lights and Teatro Visión. Sign up for this free event!
Thursday, Feb. 23, 8 p.m.: College Night at the Mexican Heritage Plaza. Meet and mingle with your fellow students from all over the Bay Area at this performance.
Friday, Feb. 24, 8 p.m.: Pride Night at the Mexican Heritage Plaza. Join us to celebrate and support our LGBTQ+ community and allies. Featuring a reading from a member of the Teatro Visión familia before the show.
Parking and other info:
At City Lights, we are unfortunately unable to offer any designated patron parking for the theater. View a parking map of downtown San Jose to see your options for street or lot spaces. The closest city lot is the First Street and I-280 Lot, under the freeway.
Performances are about 2 hours and 15 minutes, plus one 15-minute intermission. We'd rate this production PG-13 for some language and sexual references.
The theater is wheelchair-accessible; book the ADA & Companion seats when buying tickets. If you need ADA parking in front of our glass doors, note that on your order during check-out, or email or call the box office (408-295-4200).
Due to the intimate size of our theater, we unfortunately are not able to seat late patrons. Thank you for your understanding.