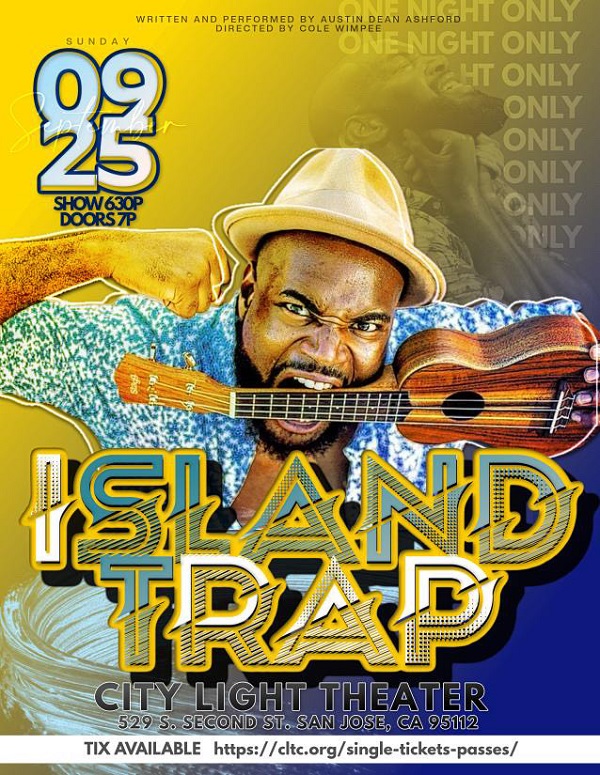 (I)sland T(rap)
Starring Austin Dean Ashford, this one-person event is a hip-hop riff about Black Ulysses on an Odyssey of self-discovery. It's a powerful exploration of a young artist of color navigating the turbulent waters of contemporary American culture while trying to find his voice. With poetry, music and commentary on the Black experience in America, this tour-de-force charts a soul journey on an exotic island where Black Ulysses discovers his place in a society full of gun violence and oppression.
An artist who is equally comfortable rapping, playing the ukulele and performing spoken word, Ashford has performed (I)sland T(rap) as far afield as the Edinburgh Fringe Festival, the New Zealand International Fringe Festival and San Diego International Fringe (where it won Best in Fest). He has also won 18 awards from The Kennedy Center for playwriting and acting, been nominated for a Latin Grammy Award, and performed for Denzel Washington.
Join us for what is sure to be a fascinating performance.
City Lights is a fully vaccinated company, and everyone who works here is regularly tested for Covid-19. Learn more about our Covid-19 protocols.
"Strumming a ukulele, singing, dancing and rapping at blazing speed, he tells an autobiographical story of his journey through fear, loss, self-acceptance and pride as a black man in today's fractured America….astonishing."  -San Diego Union-Tribune