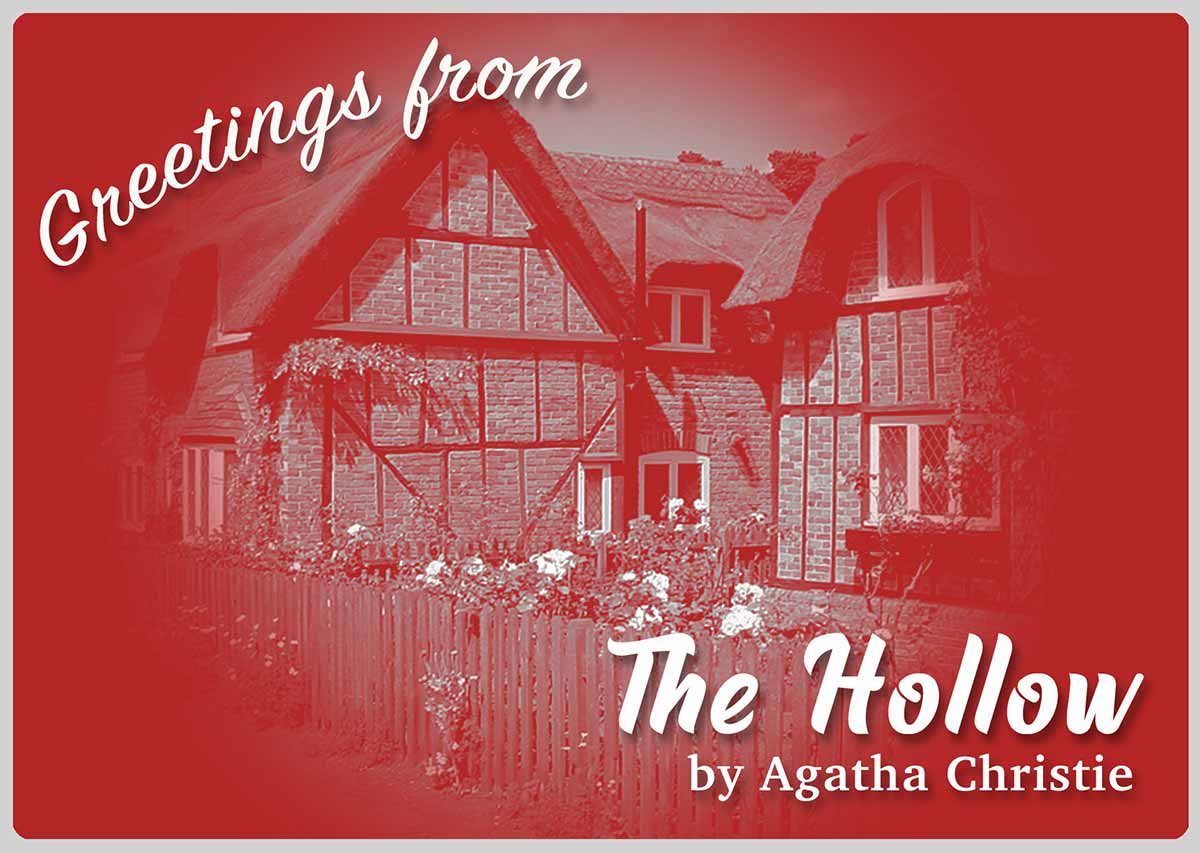 The Hollow
Runs

Jan 20

–

Feb 20, 2022
Written by:
Agatha Christie
Directed by:
Doll Piccotto
Supported by:
Producers Connie & Paul Boulay
Season supported by:
Season Producers Nancy B. Coleman & Paul M. Resch
Why you should see The Hollow
Because you'll have to find out "who did it." (There is a butler, but we're not going to tell you if he did.)
Because even though Agatha Christie always murdered characters, this time she'll also slay you with laughter.
Because Alycia Adame, Tom Gough, and Karen DeHart.
Because a trip to the British countryside sounds lovely this time of year.
PHOTOS, PROGRAM & OTHER RESOURCES
Synopsis
There's a wife and a husband, a mistress and a movie star, and plenty of other people tangled up in romantic situations, but only one of them does the deed. And by "deed," we mean "murder." After all, this is an Agatha Christie play. With classic mystery and surprising humor, The Hollow takes audiences into a lovely English country house on one very eventful weekend. Bring your alibis.
Cast
Sir Henry Angkatell: Ken Boswell
Lady Lucy Angkatell: Karen DeHart
Henrietta Angkatell: Anne Yumi Kobori
Edward Angkatell: Kyle Dayrit
Midge Harvey: Alycia Adame
John Cristow: Damian Vega
Gerda Cristow: Caitlin L. Papp
Doris: Erin Southard
Gudgeon: Tom Gough
Veronica Craye: Laura Domingo
Inspector: Patricia Tyler
Sgt. Penny: Andre Leben
More information & special events
The Hollow previews Feb. 3 and 4, and then runs Feb. 5-March 6. Showtimes are Thurs.-Sat., 8 p.m., Sundays at 2 p.m. Tickets are $25-$52, with discounts available for students, seniors (65+), educators, and groups, and for military personnel. (There is a $2 surcharge for phone and in-person buys.)
The play runs about 2 hours and 35 minutes, including one intermission.
City Lights is a fully vaccinated company, from actors to staff to volunteers, and everyone who works in the building is regularly tested for Covid-19. Please note that everyone entering the building must provide proof of full Covid vaccination. Those with a religious or medical exemption must contact the theater in advance, and bring proof in the form of a doctor's or religious leader's letter, along with proof of a recent negative PCR test and a matching ID.
A mask with ear loops or a head strap must be worn inside at all times (except by actors on stage). In addition, we have made many other changes to our procedures to make your experience as "low-touch" as possible.
Anyone who is turned away at the door or wishes to come back on another date is welcome to exchange their tickets for another performance at no charge, subject to availability.  Learn more about our Covid-19 protocols, including our upgraded safety, sanitary and air-flow procedures. Call us at 408-295-4200 if you have any questions. Thank you for helping everyone feel comfortable In the theater!
Special events:
Thursday, Feb. 3, 8 p.m.: Pay What You Can Night. (Suggested donation is $15, but any amount is welcome.)
Friday, Feb. 4, 8 p.m.: Preview Night.
Saturday, Feb. 5, 8 p.m.: Opening Night.
Wednesday, Feb. 9, 7 p.m.: Zoom talkback with director Doll Piccotto and props designer Karen Leonard, with a demo of how Karen created some of the props in the show! Sign up for this free event.
Sunday, Feb. 20: After the 2 p.m. matinee, stay for a talkback with Doll Piccotto and the cast.
Parking and other info:
View a parking map of downtown San Jose to see your options for street or lot parking. We are unfortunately unable to offer any designated patron parking for the theater.
The theater is wheelchair-accessible; simply book the ADA & Companion seats online when you buy your tickets. If you need ADA parking in front of our glass doors, please note that on your order during check-out, or email or call the box office (408-295-4200).
Due to the intimate size of our theater, we unfortunately are not able to seat late patrons.
Volunteering:
Due to the health and safety restrictions required for The Hollow, we are unable to offer volunteer positions for this show. Check back later in the season for volunteer opportunities. We're always so grateful for your work!